Sunday, 10 April 2016
I have been successfully using The Dash on a regular basis for iOS heart rate monitoring since my post a few months ago. The Dash software 1.4 came out last week and fixes many of the issues I addressed, as well as some unrelated ones I didn't mention. So, here's an update.
1.4 adds support for broadcasting heart rate to more apps, including Wahoo Fitness, which was confused by 1.3 but works great now.
The audible message when you tap and hold the left Dash is now clearer that this gesture is not only for pairing but for starting Bluetooth LE communication including heart rate tracking.
There's now audible feedback when connecting from the right Dash alone. Normally, the Dash connects automatically once they're both in your ears, but you can use just the right Dash by double-tapping it once it's in your ear.
It's now possible to rename your Dash. Unfortunately the left and right sides get the same name, so it remains difficult to distinguish between them. The app implementation is a bit flaky. Sometimes the UI doesn't immediately reflect name changes. The iOS UI doesn't let you edit the text field directly by tapping on the name, but keyboard navigation via Force Touch (iPhone) or 2-finger touch (iPad) works.
It turns out only the Bluetooth LE side will update the name of an already-paired device. You can use this "feature" to create a different name for each side:
Unpair both Dash from your phone.
Put both Dash in your ears.
Open the Bragi app.
Tap the left Dash and pair it.
In Settings, rename it to "XXX Dash R" or similar.
Eject the Dash from the app. Make sure the new name shows up on the "Select Device" screen (it probably won't); if it doesn't, try connecting and ejecting again.
Pair the right Dash to your iPhone. If it still shows the old name, put the Dash back in the charging case briefly then try again.
Open the Bragi app.
Connect the left Dash, go into Settings, rename it to "XXX Dash L" or similar.
Eject the Dash from the app. Make sure the new name shows up on the "Select Device" screen; if it doesn't, try connecting and ejecting again; if it still doesn't work, connect, rename again and eject.
The result is just what you'd expect: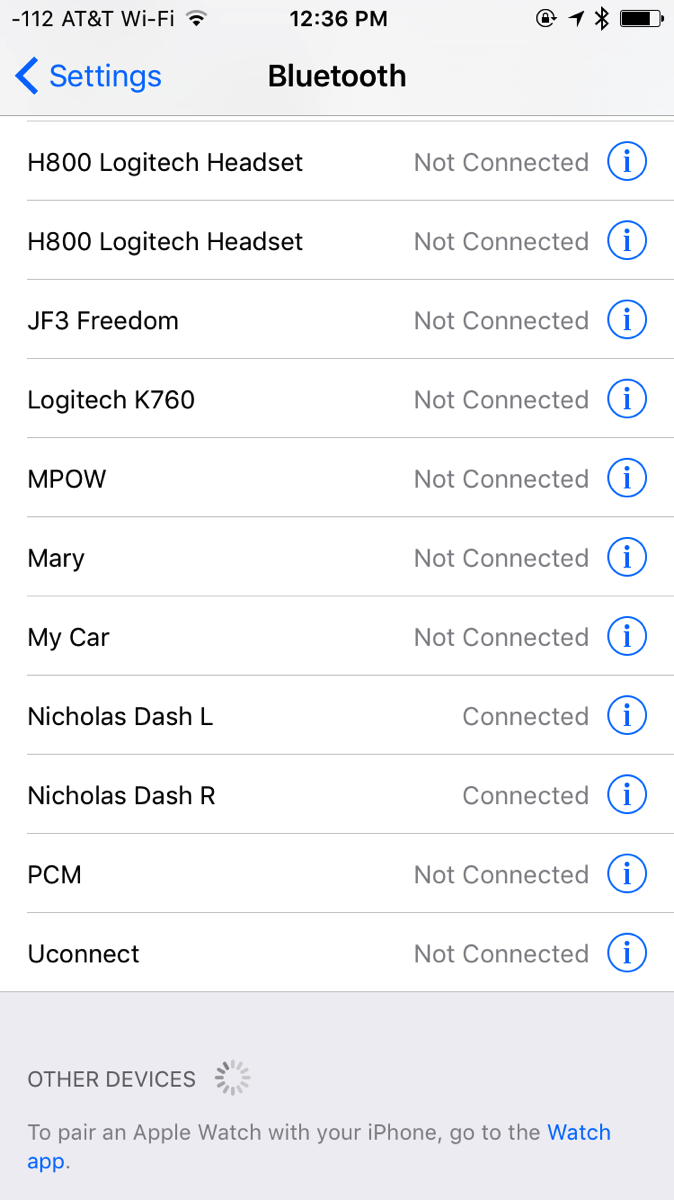 1.4 is the first version in which microphone recording quality is adequate for Siri and dictation — a huge improvement. (Listen to a comparison another user recorded — and I've heard 1.3 much worse than that.) Sporadic disconnections in the presence of seemingly-adequate signal strength seem dramatically reduced once again; I've not had a single disconnection since upgrading.
My biggest remaining Dash annoyances have to do with multiple audio devices. No version has had multipoint support, nor has this ever been promised, but worse is that you can't initiate a disconnection or pairing from the right Dash once it's connected (however…)
A final tip, if you're still having issues with touch gesture reliability: Use the pad of your finger (like you would with Touch ID), not your fingertip as you would with a touch screen. With this change, my taps and swipes have improved from perhaps a 50% to 90% success rate.

11:53 AM | Computing