Saturday, 29 May 2004
The multi-modal synchronization iSync makes possible is a terrific idea. I have lots of mobile devices: my Palm, my hiptop, my PowerBook and my iPod. When it works, iSync keeps them all talking and with a consistent world view, which has saved me from missing many appointments and given me the information I need when I need it.
When it doesn't work, I am at the mercy of a horrendously buggy implementation. I get meaningless conflict messages, impenetrable and programmer-centric errors, repeated duplication of items, and more. iSync has done far worse things, including getting itself to the point it crashes when it tries to do anything, or deleting all my address book entries without warning. iSync is slow, a huge CPU and memory hog, especially when compared to the Palm Desktop conduits, which have quietly and efficiently done their jobs for years.
All in all, not what I expect from Apple. Fixing the problems, which occur at least once a week, requires me to think like a programmer, which is just wrong. I'd never ever give the current version to my parents because I'm sure they'd run screaming.
The most annoying problem I have every few days (losing all the departments in my address book) I can at least identify because of the dialog box that appears. I blame it on a third-party conduit, but these kinds of errors are entirely Apple's fault: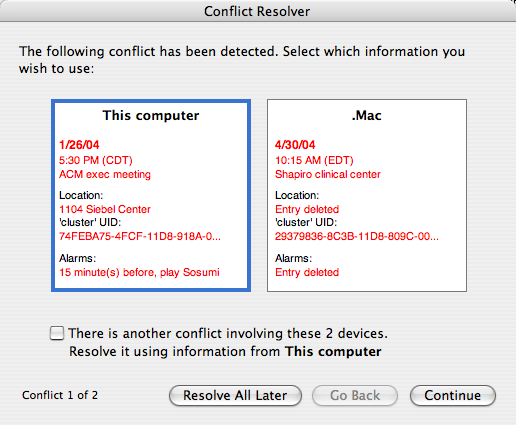 The connection between these events is…? Also, the event on the right is in a subscribed calendar, i.e. something I can't edit in iCal. iSync shouldn't be trying to sync those at all! Finally, what the hell is a "'cluster' UID"? (See above, about impenetrable and programmer-centric errors.)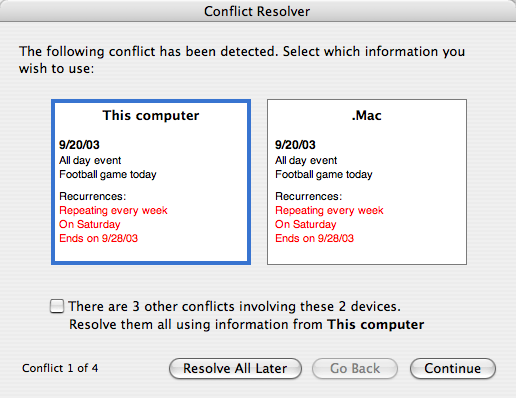 The difference between these is…?
If I had just one request for Mac OS X 10.4, it would be: fix iSync. Better yet, open it up so anyone can add devices or applications, as having a bunch of developers pound on its interfaces can help flush out the problems. I wish it would happen in 10.3.5 or a separate iSync update, but that's pretty remote at this point.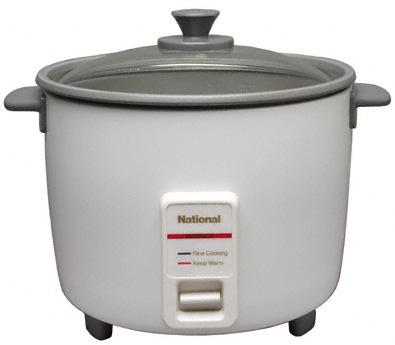 In completely unrelated news, Steve and I bought a rice cooker tonight (well, Steve bought it and paid for it while I watched). I really have no idea why we didn't get one months ago; it's just so useful.

11:48 PM | PyCS