Thursday, 15 January 2009
After replacing the drive in my iMac, next came a restoration from backup. Once again, this is covered pretty well elsewhere on the Web, but I've got a few comments about the process. Sorry about the lousy image quality; it's late and I was too tired to mess with my camera.
I've got two backups on my drive; one of my iMac and one of my MacBook Pro. The restore utility identifies them both, but not in a particularly understandable fashion. Why does the MacBook Pro backup get a Time Machine icon and the iMac backup a FireWire disk icon? Why does the MacBook Pro's machine name appear but not the iMac's?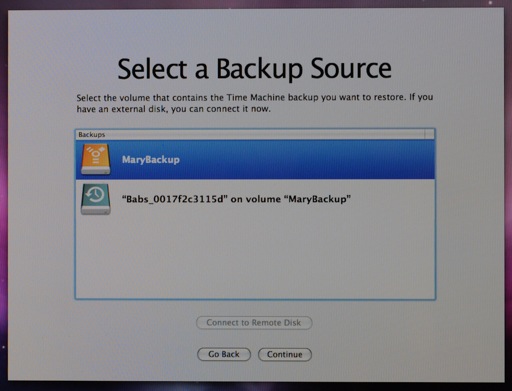 Once I selected the first disk, for some reason it defaulted to showing me an ancient backup I didn't even know I had, rather than the most recent backup available (why?)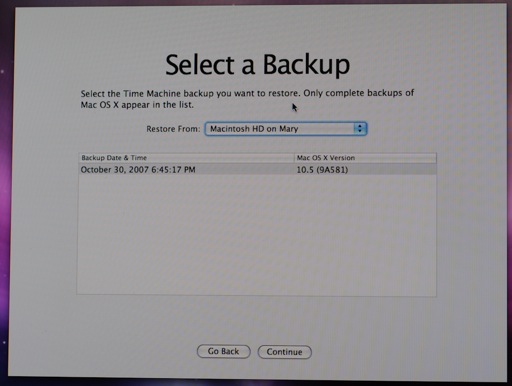 I never reinstalled Mac OS X, just renamed the disk after upgrading the iMac from TIger to Leopard, but that seems to be enough to throw off Time Machine.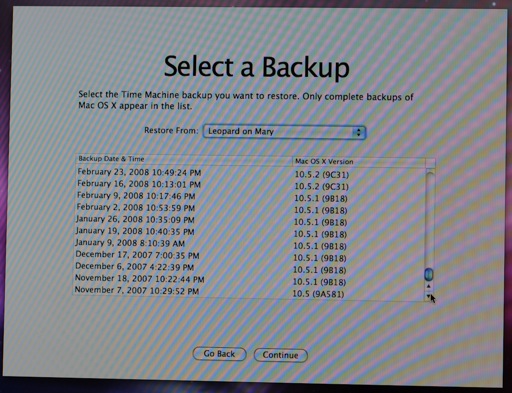 Ah yes, the day the hard drive died while I was far away in New York.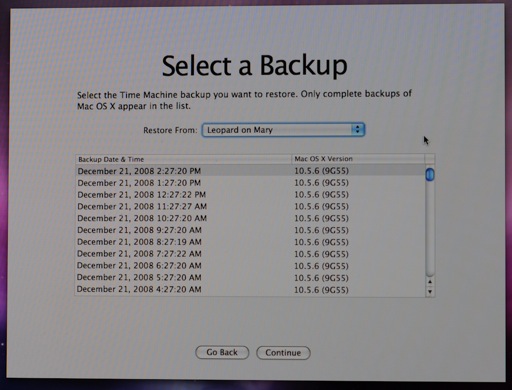 The restore utility took quite a while to "calculate space required to restore data". I'm not sure why it bothered—the backup drive is actually smaller than the new destination drive, and in any case, when calculation is complete, it doesn't even display the results and proceeds to erase the destination disk.
The time remaining indicator was wildly incorrect: after initially climbing over 8 hours, it didn't take more than a couple of hours to perform the restore.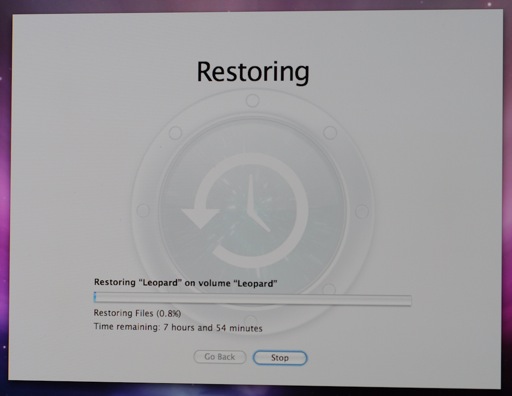 Once the restore was complete and I rebooted into OS X, nearly everything was fine. The usual culprits (Mail caches, Spotlight, MobileMe syncing) were understandable, but I lost a few odd things like my input method configuration (Spell Catcher came up though I had it disabled) and Spaces keyboard shortcuts (not even the defaults were selected; I had no way of navigating Spaces until I reset them).